Myanmar to probe Rohingya beating video
-
Jan 2, 2017-
Burmese authorities have said they will investigate a video which appears to show police beating members of the Rohingya minority.
The government said the incident, filmed by a police officer, happened in restive Rakhine state in November.
There have been repeated allegations of abuses against the Muslim minority in Rakhine, with some saying the state's actions amount to ethnic cleansing.
Officials have previously said security forces are following the rule of law.
Rakhine state is closed to journalists and investigators, making it difficult to independently verify the allegations.
Who are the Rohingya?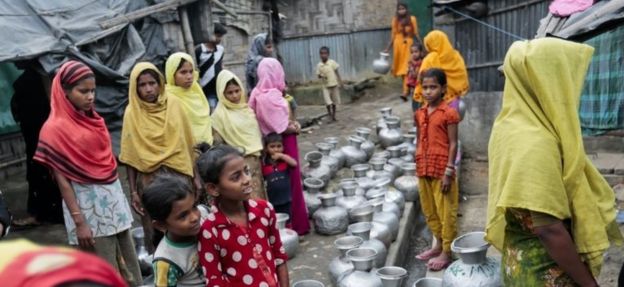 The estimated one million Muslim Rohingya are seen by many in mainly Buddhist Myanmar as illegal migrants from Bangladesh. They are denied citizenship by the government despite many having lived there for generations.
Communal violence in Rakhine state in 2012 left scores dead and displaced more than 100,000 people, with many Rohingya still remaining in decrepit camps.
They face widespread discrimination and mistreatment.
Hundreds of thousands of undocumented Rohingya are estimated to live in Bangladesh, having fled Myanmar.
Scores of people have been killed in military operations in Rakhine state, launched after armed militants attacked border posts in Maungdaw on 9 October, killing nine policemen.
The government said the footage was filmed in November as police conducted a "clearance operation" in Maungdaw after two police officers were shot, one fatally.
The video shows a large group of villagers sitting in lines in front of police officers. One officer can be seen beating one man, while another kicks him in the face. Other men are then also kicked or hit.
The State Counsellor's Office Information Committee said action would be taken against officers who violated police force rules.
Myanmar's government said it is conducting counter-terrorism operations in Rakhine and has denied reports of killings and other abuses.
'A revealing glimpse' - Jonah Fisher, BBC Myanmar correspondent
The Burmese authorities will no doubt dismiss this as a misdemeanour. The sort of thing that happens in war as emotions run high. Thuggish yes, but no war crime.
But this is a revealing glimpse into the way security forces are operating in Rakhine.
It's just one incident, but it supports Rohingya claims that they are being abused and collectively punished by the military.
For the last three months there has been a steady flow of video footage from northern Rakhine. Rohingya men and women have alleged, rape, massacres and the burning and looting of villages at the hands of the military.
The response of Aung San Suu Kyi's government has been unequivocal. The footage has been denounced as "fake news" while at the same time journalists and aid workers have been prevented from seeing for themselves.
This video should make uncomfortable viewing for Ms Suu Kyi. Official figures show that at least six Rohingya have died in custody in the last three months. Is she asking why?
Published: 02-01-2017 17:30
› Bbc