Pakistan PM Nawaz Sharif resigns over Panama Papers verdict
-
, Kathmandu
Jul 28, 2017-Nawaz Sharif has resigned as prime minister of Pakistan following a decision by the country's Supreme Court to disqualify him from office, reported BBC.
According to Reuters, Pakistan's apex court dismissed Sharif after an investigative panel alleged his family could not account for its vast wealth. Domestic media reported a criminal investigation would also be launched against the premier and his family.
Mr Sharif had consistently denied any wrongdoing in the case.
As per the BBC report, the verdict was handed down unanimously by a five-member bench in the court.
"Following the verdict, Nawaz Sharif has resigned from his responsibilities as prime minister," reported BBC quoting a spokesman for Mr Sharif's office said in a statement.
The decision, according to BBC, came amid heightened security in the capital, Islamabad with tens of thousands of troops and police deployed.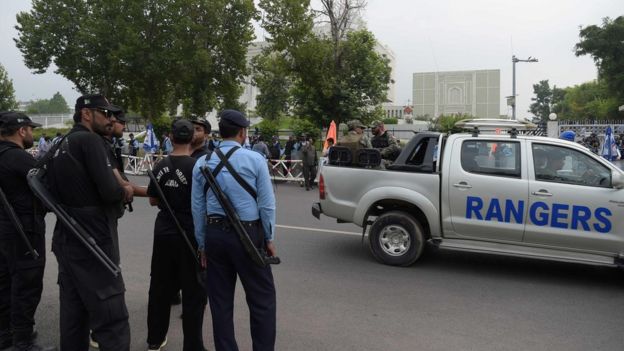 There was a large security presence outside Pakistan's Supreme Court ahead of the ruling
One of the judges at the Supreme Court, Ejaz Afzal Khan, said that Mr Sharif was no longer "eligible to be an honest member of the parliament", Reuters news agency reports.
Pakistan's Interior Minister Chaudhry Nisar Ali Khan earlier advised Mr Sharif to accept Friday's verdict, reported BBC.
The court has recommended anti-corruption cases against several individuals, including Mr Sharif, his daughter Maryam and her husband Safdar, Finance Minister Ishaq Dar and others.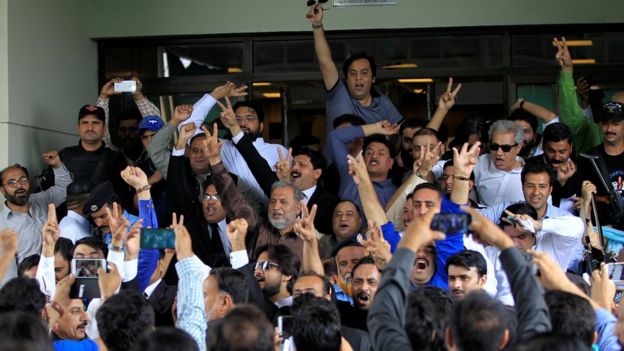 Opposition supporters erupted in applause as the verdict was announced
Mr Sharif, who was serving as prime minister for a record third time, was less than a year away from becoming the first in Pakistani history to complete a full term in office. He served as prime minister from November 1990 to July 1993 and from February 1997 until he was toppled in a bloodless coup in October 1999.
No civilian prime minister of Pakistan has ever completed a five-year term.
Allegations of corruption have chased Mr Sharif since the 1980s. And much of what the Panama Papers revealed was the subject of a federal inquiry in the mid-1990s.
Published: 28-07-2017 15:01