11 killed in Mumbai building collapse
-
, Kathmandu
Aug 31, 2017-At least 11 people have died and 24 others have been rescued after a building collapse in Mumbai on Thursday, reported BBC.
BBC quoted rescue officials that five to 10 people are still trapped. A six-storey residential building toppled over in India's financial capital around 8:40 am local time.
The building in the densely populated Bhendi Bazaar area was believed to be about 100 years old.
Ambulances, fire engines and members of the disaster relief force are still working at the site.
Mumbai is recovering from heavy rains and flooding.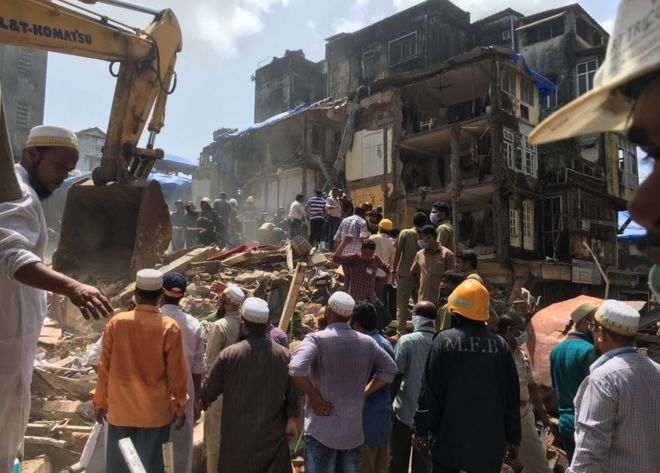 A police official told Reuters nine families were living in the old building, in the Dongri neighbourhood, an area of narrow streets with closely packed buildings, some nearly a century old.
"Forty people are believed to be stuck inside and a 43-member team is conducting rescue operations," an official for India's National Disaster Response Force (NDRF) told AFP.
Police had yet to determine what caused the collapse, which was again testing the city's rescue operations after 14 people were killed by floods from heavy monsoon rains earlier in the week.
The building housed a sweet shop warehouse on the ground floor and most families living on the higher floors were in their houses as the collapse happened early in the morning, officials said.
The collapse is the second in Mumbai in a little over a month. In July, 17 people were killed when a four-storey building crumbled after undergoing suspected unauthorised renovations.
Published: 31-08-2017 14:57