Lawyers, students protest summoning of JC meet
Say Chief Justice, charged with serious allegations, should refrain from appointing judges
-
, Kathmandu
Feb 14, 2018-
Legal professionals and students on Wednesday staged a protest against the summoning of Judicial Council (JC) meeting by Chief Justice Gopal Prasad Parajuli to appoint judges in various levels.
The protesting law practitioners and students staged a protest in front of the JC secretariat stating that it would be wrong for CJ Parajuli to chair the JC meet, amid allegations that has been leveled against the Chief Justice.
The protesters displayed placards demanding probe into the allegations against CJ Parajuli. They also issued a press release drawing the attention of the Bar Association stating that it was fault on the part of the association to stay mum at a time when such serious accusations have been made against the sitting Chief Justice.
Meanwhile, the JC meet that was scheduled for 10 am today has been deferred for 2pm.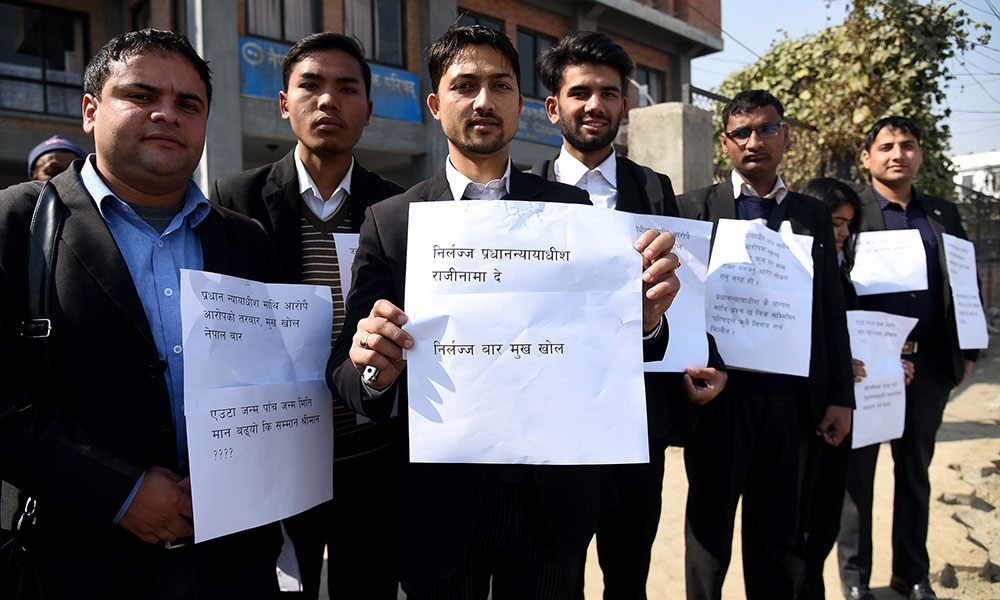 Earlier, on Friday, CJ Parajuli had summoned for a JC meet but it failed to take place. However, CJ Parajuli called for today's meet even as Supreme Court (SC) Senior Justice and JC member Dipak Raj Joshi is on a leave.
It is learnt that CJ Parajuli is expediting the judges' appointment process before Prime Minister Sher Bahadur Deuba resigns as it would cost him the vote of Law Minister Yagya Bahadur Thapa, who, by post, is the senior member of the JC.
According to a SC source, CJ Parajuli is filing for a direct proposal regarding the appointment of judges with the support of Law Minister Thapa and another JC member Ram Prasad Sitaula.
At present, the post of one SC justice, 11 High Court judges and 8 district court judges are vacant.
Published: 14-02-2018 14:45