Demonstrators burn effigies of PM and Home Minister demanding justice for Nirmala
-
, DHANGADI
Dec 11, 2018-
Members of Nepali Congress aligned Nepal Student Union (NSU) and Nepal Women'sAssociation (NWA) staged a demonstration in front of the office of Province 7 Chief Minister and Council of Ministers in Dhangadi, Kailali on Tuesday demanding the government identify and punish the perpetrators involved in the rape and murder of 13-year-old Nirmala Pant.
The situation became tense in Dhangadi after the protesters burnt the effigies of Prime Minister KP Oliand Home Minister Ram BahadurThapa as the police tried to stop them from doing so.
Cadres of Nepal Student Union and Nepal Women's Association, the student wing and women wing of the main opposition party congress respectively, also burnt tires outside the main entrance of the CM's office as part of their protest.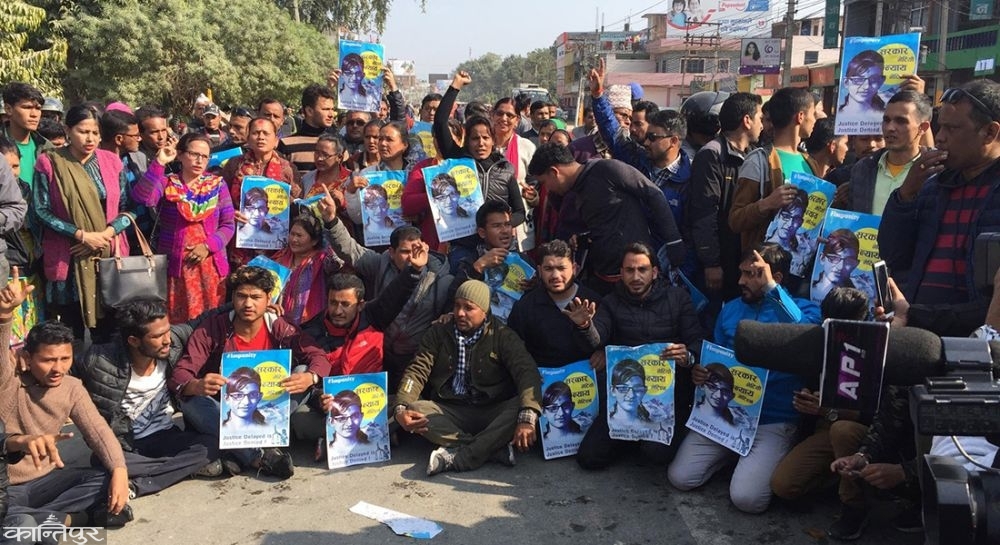 The protesters chanted slogans—'Sarkar Bhettiyo, Nyay Bhettiyena' (Found the government but could not find justice)—during the protest.
Vehicular movement in the area was briefly affected due to the protest.
NSU Acting President Bhes Bal said that they blocked traffic in the area for another one hour as the police tried to intervene in their protests, adding the NSU will continue protests until Nirmala gets justice.
The teen girl of Bhimdutta Municipality-2, Kanchanpur was found murdered in a sugarcane field on July 26, a day after she went missing. Forensic report has proved that the teen girl was murdered after rape.
Published: 11-12-2018 16:12